Hand hooked, punched and stitched primitive wares!
Thanks for stopping by!!!!
Welcome to my April Offerings!
Each month I strive to bring you new and exciting handmades for your primitive, colonial and farmhouse home. I've been creating with a needle and threads since the early 90's.  
Teresa's Primitive Treasures ~  Etsy Shop ~  Blog ~  Facebook ~ Twitter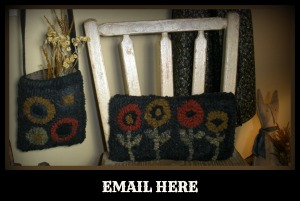 I've taken a 10 inch oval paper mache box and created a sewing box. For the lid I used hand dyed osnaburg stitched with a sheep standing under a willow tree using Valdani three strand floss and pearl cottons. The hand stitches used were chain, french knot, feather, wheat ear and whipped spider web. After the stitching was complete I attached it to the mustard fabric with a blanket stitch and mounted it onto the lid of the box. The lid and box side is covered with the same fabric. The inside and the bottom of the box is stained. Inside height is 1 1/2 inches. Click the picture to see a close up of the hand embroidery. Designed by Teresa Miller for Teresa's Primitive Treasures in a smoke and pet free home. Shipping is $6.50.
I created this hanging 5 inch wool triangle pinkeep which was inspired by a vintage one in velvet I found awhile back.. I used 3 different colors of wool in mustard, green and brown. Each seam has a hand embroidered line to include the following stitches, wheat, feather, french knots, chain, lazy daisy and star. I used Rustic Moire wool threads and Valdani. The twisted cord was created with pearl cotton. It is stuffed with wool snippets for a nice old lumpy feel. You can view all sides of the pinkeep by clicking the picture. Comes from a smoke and pet free home. Shipping is $6.50.