Primitive FoLk-ArT in the style of our Forefathers
I am so pleased to join this very talented group of Artists! I am a self taught folk- artist, I have worked in many mediums over the years. I have raised two wonderful children, and my art has allowed me to stay home and raise them as I hoped. Now I am free to create most days...and pleased to present my simple works for you. From the "Prairie to your home" enjoy looking....and I thank you in advance for your purchase...I am ever so grateful.
Questions or purchases may be made by contacting me.
(Click here to email me) michi@prairieprims.com
More items may be seen on my Facebook Page by clicking HERE
Feel Free to LIKE my Facebook page
I am happy to accept PayPal, Postal Money Orders, or Personal Checks. 
Prompt Payment is expected. Items will not be marked sold until payment has been made.
Cupboard Tucks
They are great setting around cupboards or shelves, very primitive.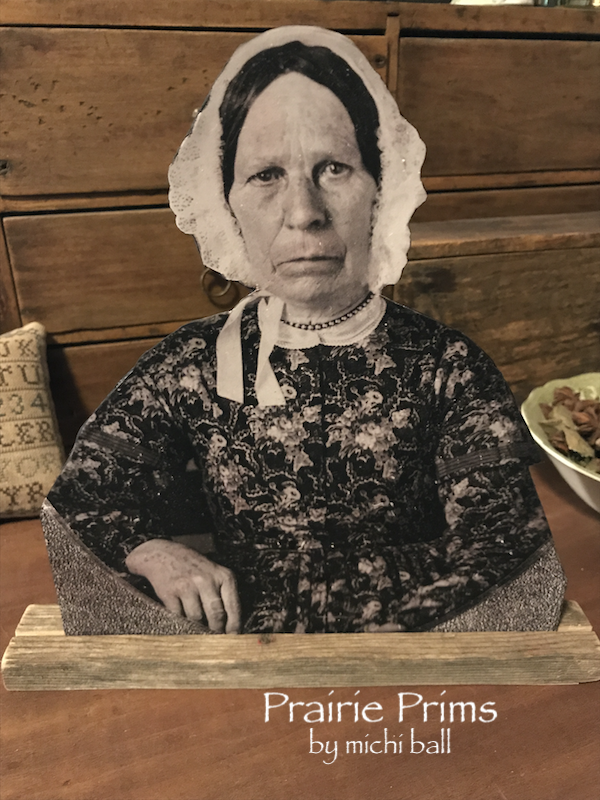 Miss Prudence
9 x 10 Mounted on chipboard and with an old pine base 25.00 plus Travel
Miss Austin
11 x 8 size....Mounted on chipboard and has an old pine base 25.00 plus Travel
Grama Maude 
9 x 5 Mounted on chipboard and with an old pine base 25.00 plus Travel
Hand Did Penny Rug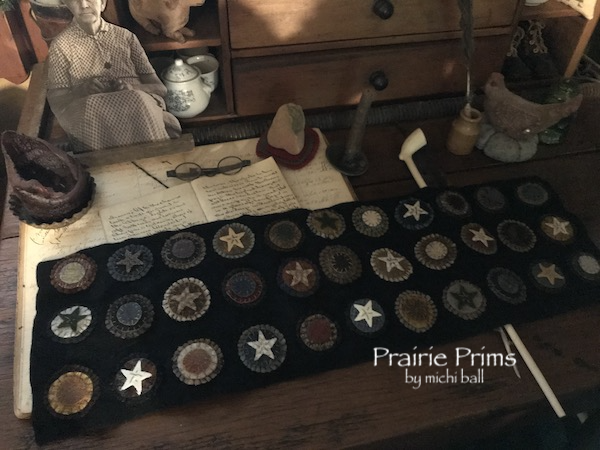 Penny rug...all hand sewn...26 x 8 mounted on black wool...the stars are just right for the patriotic season ahead!
69.00 plus travel...
 
Lamb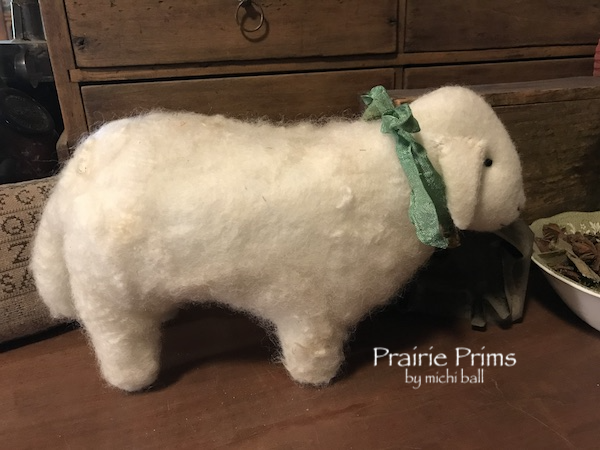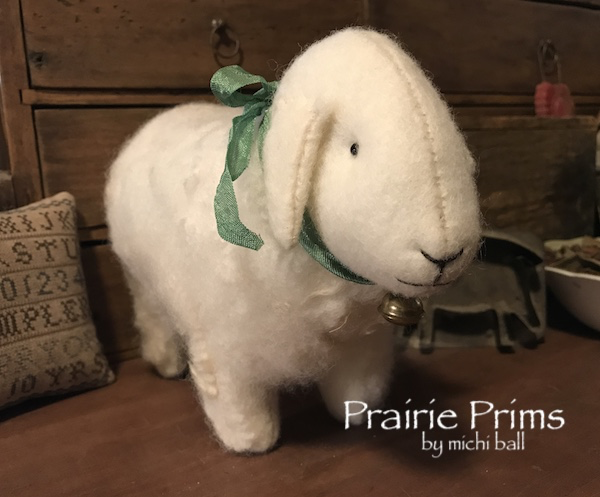 Hand Sewn Lamb with real wool, she measures 10 x 9 . She has glass bead eyes..and a  ribbon with a German Bell. 
I cant ever get enough Lambs...I think they are my favorite decoration! 
60.00  plus travel...
SOLD
Spring has quickly turned to Summer here in Oklahoma, I hope you are enjoying the warmer temperatures too!
 Sending Love to all my customers....
PLEASE contact me at this address...
michi@prairieprims.com
THANK YOU for considering my humble works. Questions answered promptly by email.
See you next month, on the 3rd Thursday in  June.. ..Blessings to All
Please follow my " PRAIRIEPRIMS "page on facebook..for more prim folk art!
Blessings
I truly love my customers!
Michi Ball
E-mail me with any questions.